17/05/2022
| | | |
2 minutes read
|
Wounded Cluj. A Photo Album of Photofilm Workshop 1944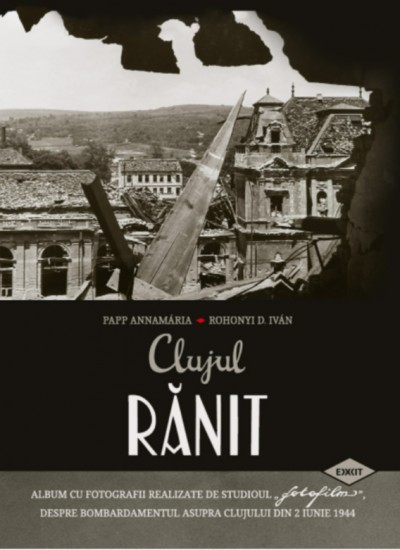 Wounded Cluj. A Photo Album of Photofilm Workshop 1944
Source: exitkiado.ro
During the Second World War, on 2 June 1944, Cluj-Napoca was also hit by an American air raid, which caused huge losses to the city. The territory of Northern Transylvania, which was returned to Hungary by the Second Vienna Award, had few militarily significant targets, so the Allied air force mostly bombed this part of the country only when it was justified by some other major ground operation in the European theatre of war. The US air raid of 2 June 1944 was in fact linked to the Allied invasion of Normandy on 6 June 1944 and was intended to prevent the redeployment of troops from Germany and its European allies from east to west. The so-called Frantic Joe I air operation, also affecting Cluj-Napoca, was in fact the first joint US-Soviet coordinated military action. The air raid resulted in great destruction in the city, with several important public (e.g. the Reformed Hospital) and residential buildings almost completely destroyed, and many innocent citizens – men, women, and children alike – lost their lives in the bombing.
The volume contains an album of photographs compiled by Fotofilm company, headed by Dénes Szabó (1907-1982), a photographer from Cluj-Napoca, and an introductory study. The album, measuring 51X35 cm and with 19 pages, contains 106 large and ten small black and white documentary photographs of great value. The photos are extremely shocking and provide an authentic picture of Cluj-Napoca after the bombing. The album also includes a number of images provided by the National Museum of Transylvanian History. The author of these photos is still unknown, but we consider it important to publish them, since they capture crucial moments of the bombing, such as the burial of the victims. The photos are accompanied by fragments of memories and sections of interviews with people who survived these terrible moments.
Journalist-editor and historian Annamária Papp was born in Cluj-Napoca on 4 December 1975. She completed her secondary education at the Reformed College of Cluj-Napoca (1990- 1994) and graduated from Babes-Bolyai University (BBTE) with a degree in journalism (1998) and history (2002).
At present, she works as journalist-editor and head of the political section of the daily paper Szabadság [Liberty] in Cluj-Napoca. Her research interests primarily include the period after the Second World War (prisoners of war, civilian deportees, people forced to do so-called "small labor"), as well as the horrors of communism, especially 1956 in Transylvania, processing the memories of survivors using the method of oral history.